Te Arawa waka | Te Arawa tangata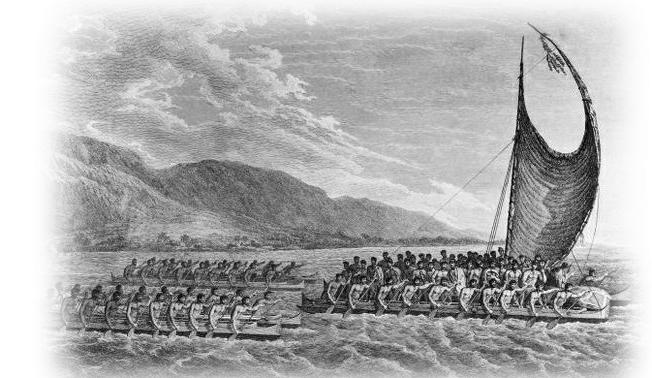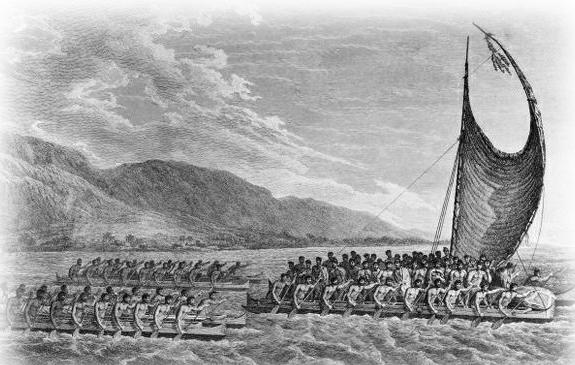 The Te Arawa people of the Bay of Plenty are the offspring of Pūhaorangi, a celestial being who descended from the heavens to sleep with the beautiful maiden Te Kuraimonoa.
From this union came the revered ancestor Ohomairangi. He was responsible for protecting Taputapuātea marae — a place of learning on the island of Raiatea or Rangiātea, in the Polynesian homeland known as Hawaiki. High priests from all over the Pacific came to Rangiātea to share their knowledge of the genealogical origins of the universe and of deep-ocean navigation.
By the time Ohomairangi's revered descendant, Atuamatua, was born the people were known as Ngāti Ohomairangi and lived in the village of Maketū. Atuamatua married the four granddaughters of Ruatapu. A generation later, six of their sons, Tia, Hei, Rakauri, Houmaitawhiti, Oro and Makaa became the leading family group of Ngāti Ohomairangi.
The migration to Te Ika-a-Māui over 20 generations ago was instigated by war over scarcity of resources and land.
Houmaitawhiti, one of Atuamatua's six sons, had a son, Tamatekapua.
Tamatekapua took up the challenge laid down by his father: to seek a peaceful new home in a land far to the south.
Over 30 Ngāti Ohomairangi tribe members accompanied Tamatekapua and the tohunga, Ngatoroirangi, in the double-hulled canoe originally named Ngā rākau rua a Atuamatua (the two trunks of Atuamatua) in memory of their father.
During the voyage they had a perilous encounter with the great ocean creature, Te Parata, who almost swallowed them. However, one story goes that they were delivered from the jaws of certain death by a mythical great shark, and the people renamed the canoe and themselves Te Arawa in its honour.
On entering the Kaituna estuary beside Ōkūrei, the bow of the Te Arawa canoe was tethered to a large rock, Tokaparore, and to an anchor rock called Tūterangiharuru, which held her fast in the current of the Kaituna River.
The tohunga Ngātoroirangi was the first to step off, conducting rituals beneath a pōhutukawa tree in full bloom.
Today this site is remembered as Ōngātoro, and commemorated by a monument built in 1940. A pā established on the Ōkūrei headland close to the moored canoe was named Maketū, after their home village on Rangiātea, in Hawaiki.
Te Arawa multiplied and spread across the geothermal zone of the central North Island, occupying lands in a continuous line from coast to volcanic mountain interior. This area became identified with Te Arawa, and is affirmed on marae with the proverb:
MAI MAKETŪ KI TONGARIRO
KO TE ARAWA TE WAKA
KO TE ARAWA MĀNGAI-NUI ŪPOKO TŪTAKITAKI
From Maketū to Tongariro
Te Arawa the canoe
Te Arawa the determined people